We've been cleaning carpets for 15+ years!
P.S. The Perfect Solution is Here!

Call for a FREE Quote Today!

Your Satisfaction is
Our business…

Melia Darger Read More
I can't say enough about how great Jared's work is! After going through several carpet cleaners and being dissatisfied with the results, he came in and worked a miracle! Having two big dogs on white carpet is a nightmare, but Jared made the floors look good as new. He also removed some set in, smelly urine stains that wouldn't budge with other cleaners. Thank you Jared!!

Ray Bryant Read More
Just moved to Sandy Utah and needed our entire lower level carpet cleaned. Jared was amazing, gave us an estimate based on square footage over the phone that was exactly what he charged us. Nice to meet a young man who seems to care more about the quality of the job he did than how fast he could do it. Our lower level looks incredible…a job very well done! I'd sum up by saying he was punctual, professional, polite, and extremely competent!

Amanda Jensen Read More
Jared from Perfect Solution was a dream to work with. Our new puppy had done a number on our carpets, but now they look like new. The off putting odor and stains are 100% gone. I would recommend perfect solution to anyone. Jared provided fast and friendly service which made the experience easy from start to finish. Thanks Jared for taking such good care of us and our home.

Abby Jameson Read More
We had an all-around amazing experience with Perfect Solution carpet cleaning. First, they were able to fit us in quickly when I first reached out. The prices were very reasonable for the amazing job they did! Shawn and Jared were extremely professional, friendly, and took the time to explain the process of how they were going to help us extract some pet stains that we were unable to get out on our own. We are so grateful they took the time to help us with this issue and spot treat the problem areas multiple times to pull the stain and odor out of the carpet.

Jessica Sherry Read More
We have had Jared clean our carpets 1-2 times a year for the past 10 years. He is always on time and reliable. He always goes the extra mile in cleaning, pays attention to detail and explains what he is doing to ensure the best outcome. We've loved our experience with his company!
Previous
Next

See All Google Reviews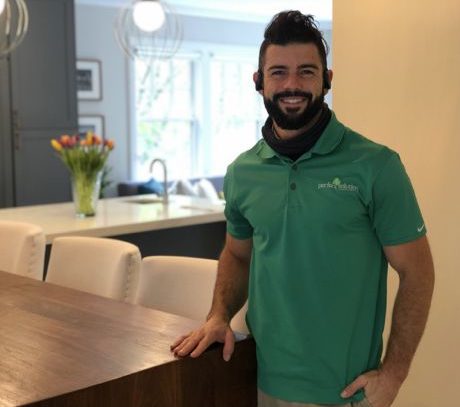 Jared Gibson
Founder & Owner~
Perfect Solution
Over a Decade in Experience
of Perfect Solution Carpet Cleaning
Jared Gibson, owner of our carpet cleaning company, is a true expert in his field. With over a decade of experience in the industry, he has dedicated his career to perfecting the art of carpet cleaning. Jared's passion for his work is evident in his attention to detail and commitment to providing the best service possible. His knowledge and expertise allow him to create customized solutions for each and every client, ensuring that their carpets receive the exact care they need. Jared's dedication to his craft is unmatched, and we are proud to have him at the helm of our company. When you choose our carpet cleaning services, you can trust that you are getting the very best thanks to Jared's years of experience and commitment to excellence.
Owner Managed & Operated
This means that you can trust that the person cleaning your carpets is the same person who is invested in the business's success. Our commitment to quality and personalized service sets us apart from the competition.
4.9+ Stars on Yelp & Google
We take pride in providing exceptional carpet cleaning services, which is why we're thrilled to announce that our hard work and dedication have paid off, with an impressive 4.9-star rating from our satisfied customers.
Satisfaction
Guaranteed
We are confident in the quality of our carpet cleaning services and are proud to offer a satisfaction guarantee to all of our customers. Our commitment to excellence means that we will not rest until you are completely satisfied with the results.
Owner Managed and Operated Carpet Cleaning Services
We pride ourselves on being owner-managed and operated by Jared Gibson and his partner Renato. With us, you're not just another customer but a valued member of our community. Being owner-operated means that we have a vested interest in ensuring that every customer is satisfied with the level of service they receive. You can count on us to take care of your carpet cleaning needs with the same level of care and attention to detail as we would with our own homes. Our commitment to quality and customer satisfaction is unmatched, and we stand by every service we provide. Experience the difference of owner-managed and operated carpet cleaning services with Perfect Solution Carpet Cleaning.
Call today for a free quote
Book your appointment today and experience the ultimate level of cleanliness and comfort in your home! We make it easy for you with our free, no-obligation quotes.